IOC project partners
INTRODUCES
Ghisolfa
Ghisolfa is a family of soundproofed seats that comes in a high-back version, for private moments or discussions, or a low-back version for conversation areas.
The privacy is heightened when Ghisolfa is configured together with opposing high-back sofas or armchairs, to create a completely shielded area. The thickness of the Ghisolfa quilted fabric padding creates a soundproofing effect: it is therefore ideal for having meetings or informal conversations in total comfort. 
The quilting is hand-crafted and, alongside the soft cushions, it affords harmonious forms that offer maximum comfort. It's available in a wide variety of colours and fabrics.
Ghisolfa is also available in the low-back version, ideal for group meetings or conversation areas where eye contact is important. It therefore lends itself perfectly to both working areas as well as environments that are more informal or domestic. Perfect also for chill-out zones, reception areas and waiting rooms.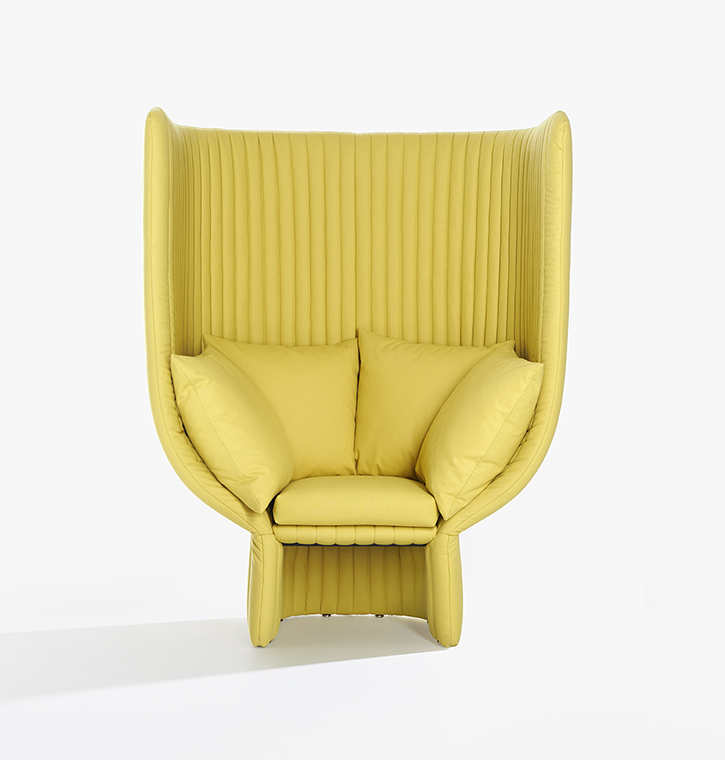 Product Overview
Ghisolfa is a seating system for individual moments or for private sharing, ideal for offering a protected micro-environment in the most open spaces. The armchair or the sofa can be coupled at the front to create more isolated and complete spaces. The thickness of the ribbed upholstery and the fabric give these seats a high sound absorption coefficient, making them ideal for holding meetings in total comfort. The characteristic embracing profile, the curved shape above the seat with the soft cushions increase the internal comfort.
The upholstery is available in Kvadrat Divina 3, Hero and Forest Nap fabrics.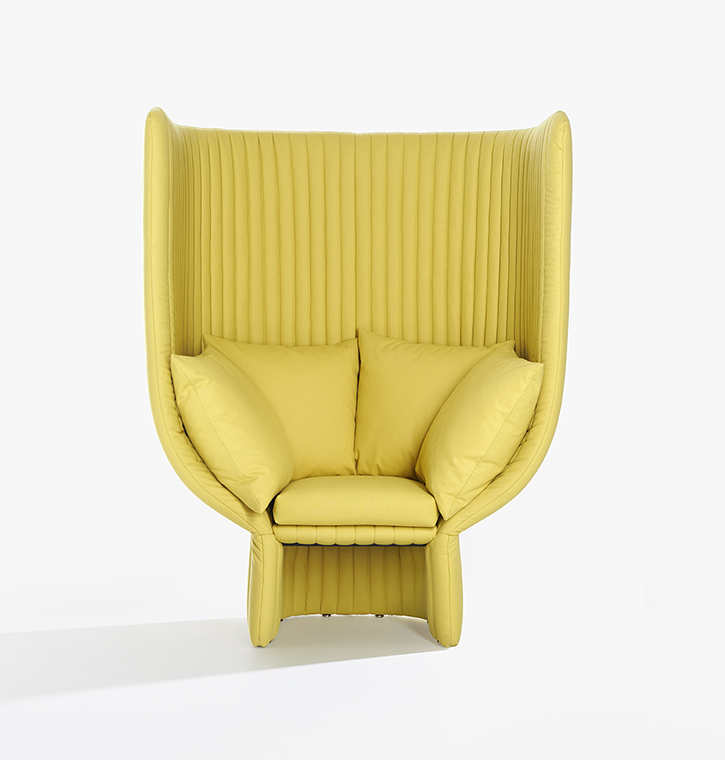 Designer
Raffaella Mangiarotti
Materials
Steel, Wool, Wood, Poliestere
Dimensions
Armchair
L: 1260 mm - 49''
D: 880 mm - 35''
H: 1590 mm - 63''
Low back armchair
L: 1260 mm - 49''
D: 890 mm - 35''
H: 1010 mm - 40''
Sofa
L: 2210 mm - 87''
D: 890 mm - 35''
H: 1590 mm - 63''
Low back sofa
L: 2210 mm - 87''
D: 890 mm - 35''
H: 1010 mm - 40''
Production process
Cold-cure polyurethane foam, with a steel structure, wood components and elasticated webbing. Quilted and lined with polyester jersey and another fabric.
Foam certification: Technical bulletin 117:2013: section 3, BS 5852 part 2 crib 5, UNI 9175 1IM).
Designed by

Raffaella Mangiarotti
"I am fascinated by the possibility of creating a piece of furniture with physical and mental comfort. An intimate place to concentrate and relax."

"I liked the idea of a nest, soft like a big pillow and cosy like a protective hug," she added. "A place that looks and is welcoming. It should have a generous space where the user can always find a comfortable and personal sitting position."

BRAND SELECTION
OUR PRODUCTS