IOC project partners
INTRODUCES
Brera25
Brera25 is a desk and furniture collection of elegant shapes and refined details. Ideal for executive and managerial offices, as well as for open spaces or home studios.
The configurations, materials and colours of Brera25 are entirely customisable. Its flexibility enables spaces to be fully optimised, rendering them highly functional and comfortable. 
The system is manufactured using a combination of high quality materials, including wood, lacquer, eco-leather, metal and glass. Brera25 can be configured to suit a variety of specific needs, it offers a double frame with a 45° joint and electrically height adjustable desks to enable work to be conducted either standing up or sitting down. It comes equipped with a special compartment that contains the electrical sockets. Beneath the desk, an accessible compartment makes it possible to neatly stow away electrical cables.
The wide variety of materials and finishes are of excellent quality, making them extremely durable. Wood, lacquer, eco-leather, glass and metal combine to create entirely unique and customisable solutions time after time.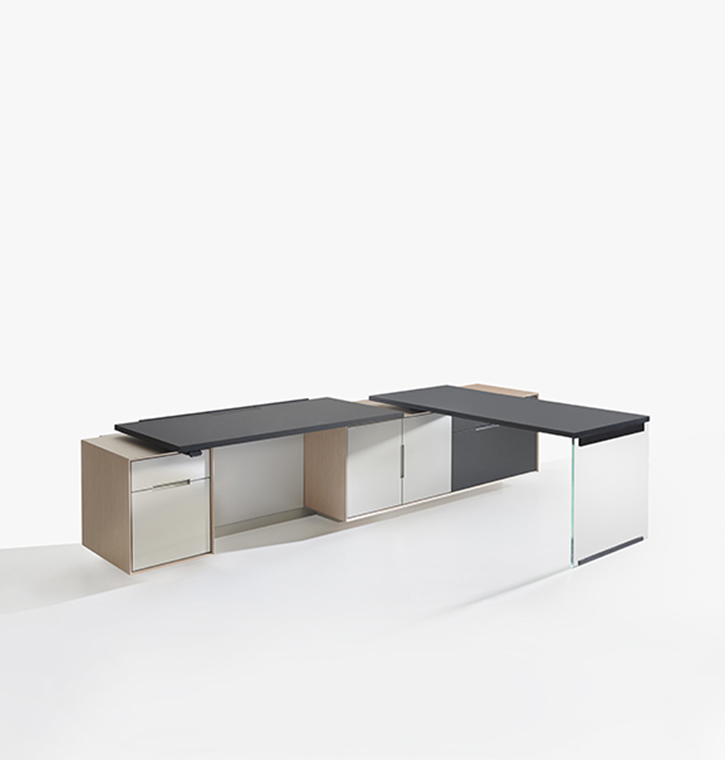 Product Overview
Brera25 is the furnishings collection that makes its case clear: elegant form and refined details are always in style. Designed for the private office, the system expresses itself in a combination of rich materials, including lacquer, wood, melamine, eco-leather, and metal. A double 45° jointed frame and glass leg add distinctive flair, while a concealed electrical mechanism allows for effortless sit-stand functionality.
The worktop and cabinets can be made of wood, lacquered, melamine or covered with eco-leather. The leg is available in wood, lacquered or glass.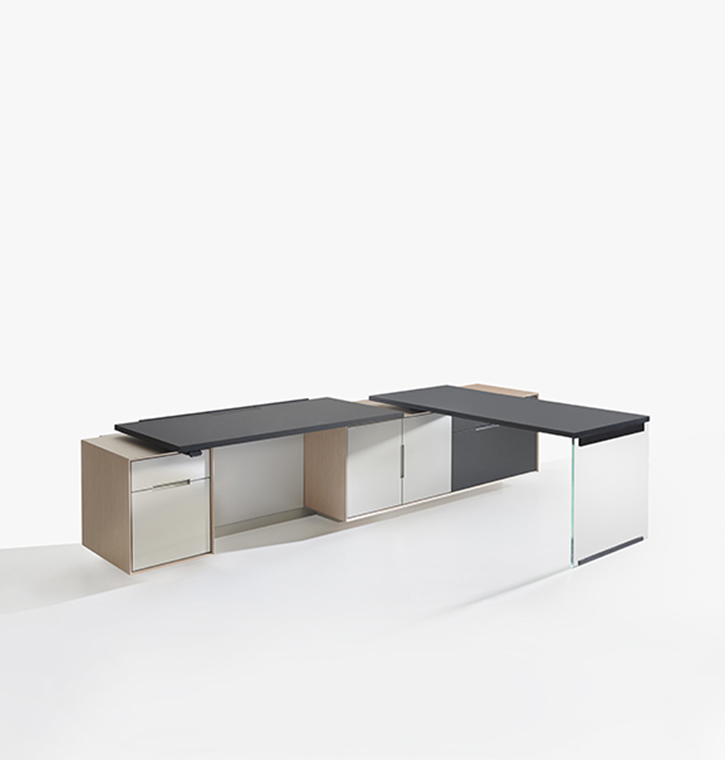 Materials
Aluminium, Eco-leather, Laminate, Wood, Glass
Features
height-adjustable, angular, with electrical movement, modular, multiple
Production process
The desk is equipped with an mechanical lifting mechanism operated by a control button (also via Bluetooth), the desk top also has an accessible compartment complete with an electrical socket.
The modular system of storage units is composed of single elements placed together: they are enveloped by an external frame with 45 degree front chamfer.
Product sheet
Data Sheet

Collection
Brera 25

Official website
IOC project partners

"We wanted a modular office system that could adapt to custom configurations without sacrificing elegant proportions. Soft touch materials give Brera25 a high-end residential look and feel." – Jonas Gabbai, Design Director and Senior Associate at Gensler.

"Brera25 was designed to offer a clean design aesthetic, elegant details, and unique materials to elevate private office and open work area environments." – Mark Morton, Design Director and Principal at Gensler.
BRAND SELECTION
OUR PRODUCTS