G-Code Desk
A true architectural project, where the purity of the volumes conceals infinite functionalities, pushed to the extreme.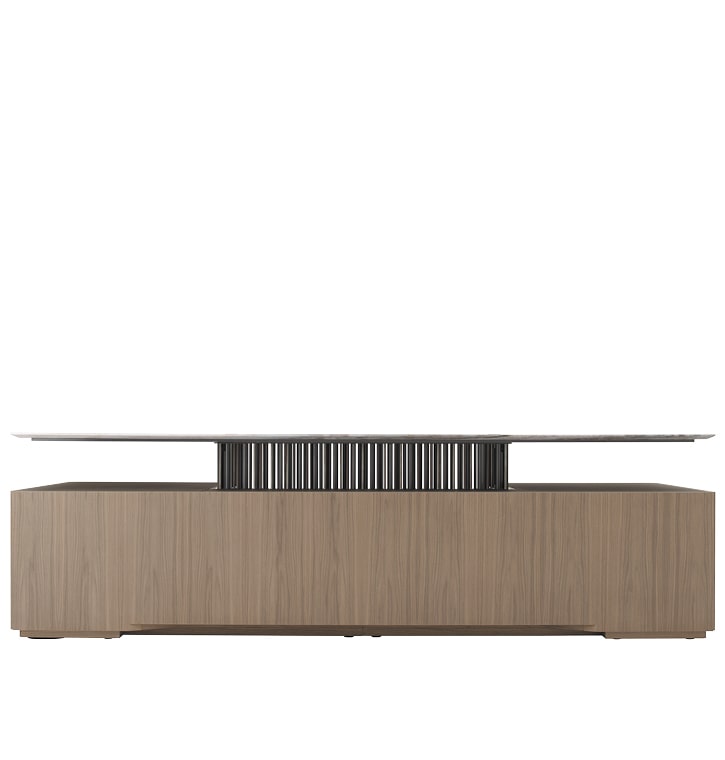 Product Overview
Executive desk with a Canaletto walnut structure, available in three finishes: natural (fin.11), grey (2w), dark (2Z). The top is available in:
• Marble in the following variants: calacatta; calcatta violet; abstract grey; zebrino; portoro;
• Walnut in the three finishes natural (fin.11), grey (2w), dark (2Z) to match the finish chosen for the structure.
There is always a leather insert. The top is supported by a metal structure characterised by 158 cylinders in three different sizes and finishes:
diameter 10mm champagne brushed painted; diameter 12mm matt bronze painted; diameter 15mm pewter painted. Two cylinders placed at the end of the sub-panel have a functional as well as an aesthetic aspect, acting as cable grommets. The cables depart from a technical compartment, illuminated by LEDs with an opening sensor, positioned in the structure and equipped with: 3 schuko sockets, 2 RJ45 sockets, to exit through a conical hole carved from solid Canaletto walnut characterised by a craftsmanship. The leather-covered desk pad, in the same colour variant as the lower top, presents two USB A/C multi-sockets integrated into the structure with a matt black sheet. The left-hand drawer unit consists of a single compartment with LED lighting with opening sensor and multi-socket 3 schuko sockets, 2 RJ45 sockets. The right-hand chest of drawers consists of three drawers of different sizes, from top to bottom: No. 1 drawer with separators No. 2 drawers, all drawers have a leather bottom, in the same colour as the top and bottom insert. The metal handles are leather-covered and inserted in the front of the drawers, worked at 45°. The frontal part is characterised by a courtesy compartment for guests illuminated with a dimmable LED strip with remote control supplied. Height-adjustable feet.

Accessories: it is possible to add to the left-hand drawer unit and the bottom right-hand drawer, an app-controlled automatic closing system.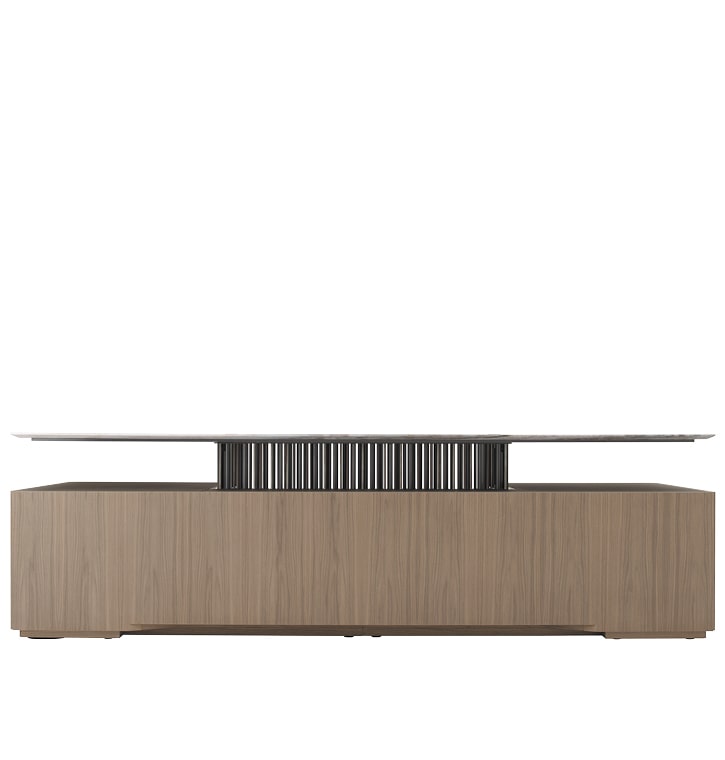 Designer
Dante O. Benini & Luca Gonzo
Official website
giorgetti.eu

BRAND SELECTION
OUR PRODUCTS