Quadra
The leaning pergola characterised by the "Quadra System" patent.
Quadra is a Gibus sloping pergola in powder-coated aluminium, with brackets and components in stainless steel, which makes the structure stable and long-lasting. The design of Quadra is characterized by the frontal frame with an original diamond pattern. The guide rail of the pergotenda does not protrude beyond the frontal edge of the gutter, thanks to the patented Quadra System that reduces its size. The aesthetics of the pergotenda are not limited to the features of the structure, but are also enhanced by the numerous colors of the paintwork and the blackout PVC fabric, which is UV-resistant and waterproof. Like every Gibus product, the pergotenda is versatile, and is available in wall-mounted, ceiling-mounted or self-supporting versions (Pavilion model). The structure must have a minimum slope between 8% and 19% depending on the projection, and is equipped with a gutter with water drainage integrated in the legs, so as to ensure maximum comfort even during rainy days. Depending on the need for protection, the pergotenda can be supplemented by side sunscreens, equipped with zipper technology, which make them stable and wind-resistant. These drop tents can mount various types of cloth: blackout, shade, transparent crystal or insect net. If, on the other hand, you prefer to close the pergola with glass windows, Quadra can accommodate Glisse sliding closures along the perimeter. The technology is not lacking and the numerous accessories contribute to make this pergola special: heaters, sound system, led lighting system, every detail is designed to make Quadra your space of the heart, elegant, functional and comfortable. In this sense, by means of motorizations and automatisms of various types and purposes, arranging the pergola is easy, safe and comfortable. Other accessories with which you can improve Quadra are the protection canopy, where you can collect the cloth underneath, and the drip-saving system, with which you can avoid unpleasant infiltrations.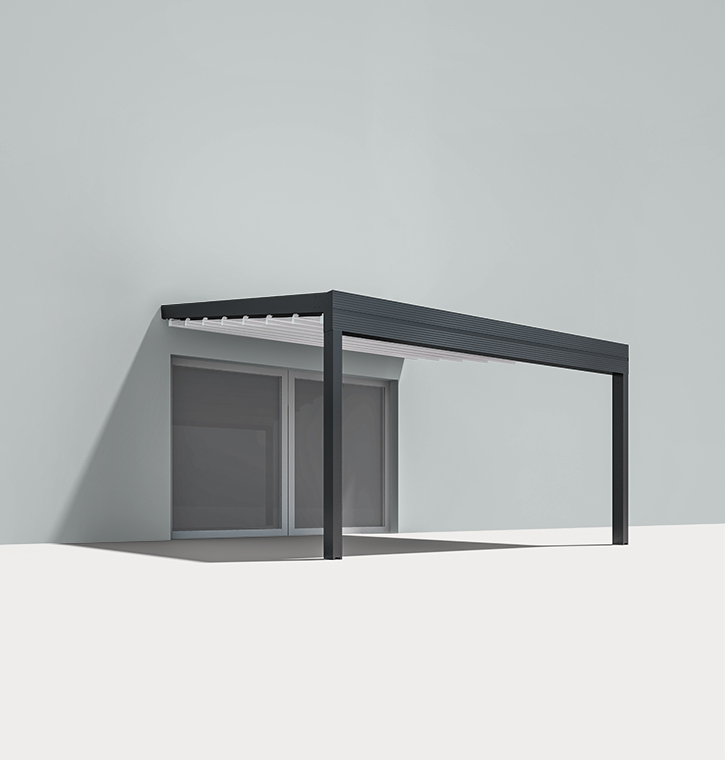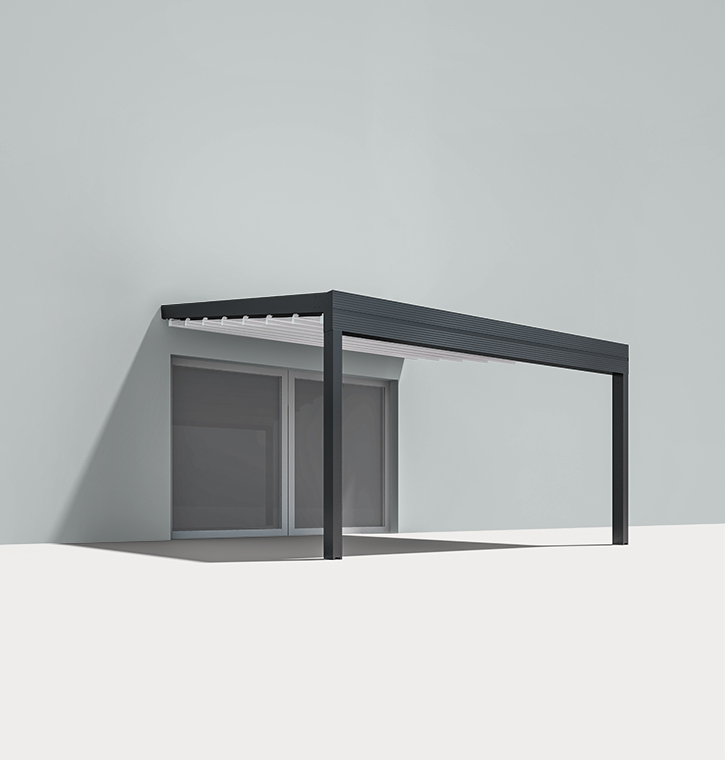 Features
with integrated lighting, motorized
Dimensions
1 Module:
L max 550cm x S max 650cm
Production process
Each Quadra is made to measure, starting with a project developed for each individual need.
BRAND SELECTION
OUR PRODUCTS