Nuée
Ready to take on spectacular, complex silhouettes, Nuée generates a contrast between design and spontaneity: a very evocative suspension lamp, like a large, floating cloud of light.
The evanescent material that gives it form – with its alternation of pale and dark zones, transparency and opacity – suggests the choreography of a flock of birds, crossing the sky and shifting through incredible abstract figures. Nuée too is an object that seems to be motion, with different levels that overlap and shift in relation to the viewer's vantage point.
Its particular material, a three-dimensional technical weave – produced with a technology Foscarini has applied for the first time in the lighting sector – can be shaped as desired, creating mutable compositions. Pale and dark zones come to life, crossed by the light to trigger poetic, intriguing effects.
 The light organic form of Nuée develops freely, in a way that is never identical: every lamp as a one-of-a-kind creation.
Nuée, thanks to its airy look, is perfect for informal settings, featuring great attention to detail, enhancing but never overwhelming them. The lamp works well as a single unit, or in combinations: over a table, at the centre of the room, in reception areas or meeting zones.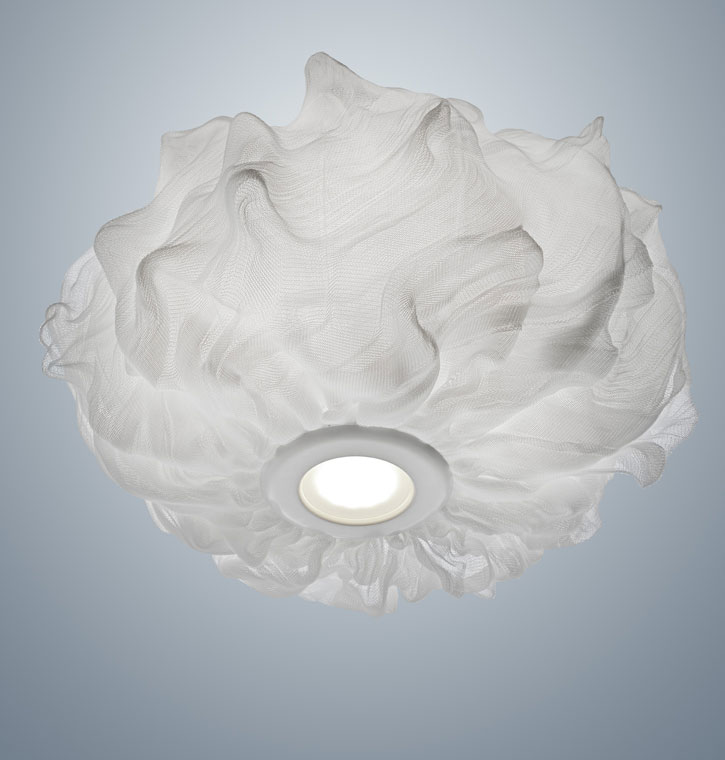 Descrizione del prodotto
Great theatrical and decorative impact: Nuée can set the tone of an entire space, without being aggressive.
The lamp has dual brightness. On the one hand, it releases light inside the cloud – soft, warm, enticing. On the other, a second beam is aimed downward, to illuminate a surface or a pathway. Internal structure in powder coated aluminum and steel. The LED boards were purpose-designed by Foscarini to achieve a superior level of colour rendering. Diffuser consisting of two layers of three-dimensional deformable fabric in white PBT.

MATERIALS
PMMA, PC, PBT, steel and powder coated aluminium

COLOURS
White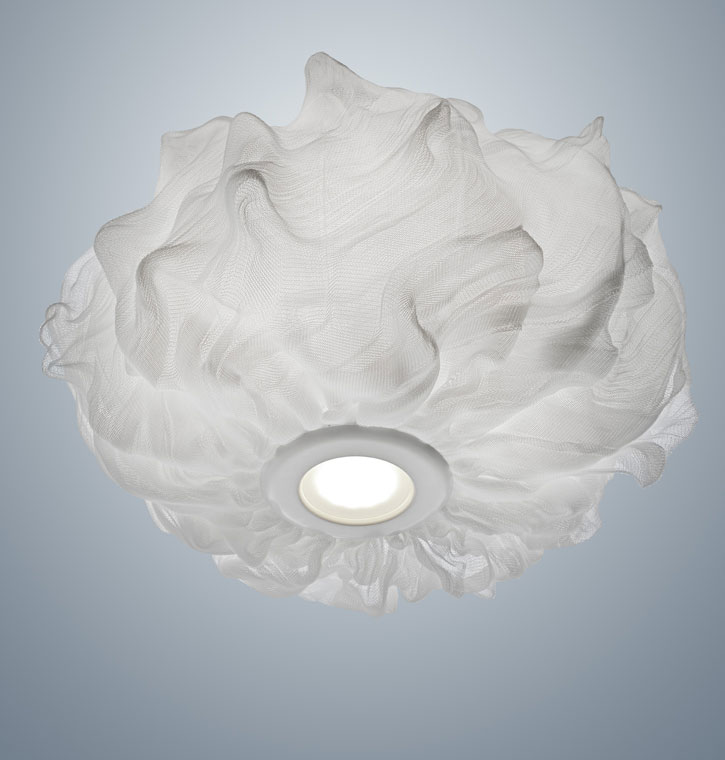 Scheda prodotto
Download Nuée product sheet

Sito web ufficiale
Discover Foscarini

BRAND SELECTION
OUR PRODUCTS