Chouchin
A family of blown glass lamps of remarkable versatility embodying a refined contemporary style.
Chouchin is a family of lamps that constructs a dynamic dialogue between form and colour. The name indicates the traditional paper and bamboo lanterns used in Japan as luminous signage for venues, or as a good luck charm to hang outside homes. Chouchin suggests the image of a familiar object that takes on modern, essential style thanks to exceptional craftsmanship.
The Chouchin family has expanded, with two new colours – brushed gold for the rim of the Chouchin Reverse 1 version, glossy black for the rim of Chouchin Reverse 2 – both embodying a refined contemporary style. The two new versions are also available with a matching gold or graphite mount. All three models are now available in a new, completely white version: lamps that blend the charm of blown glass with personal, graceful forms, spreading bright, fluid and enticing light downward and throughout the space.
It is ideal for both domestic contexts and collective facilities: in the entrance, the living area, the kitchen, over a peninsula or a table, in any corner that requires a combination of diffused, atmospheric brightness and a beam of light aimed towards a surface.
Designed by

Ionna Vautrin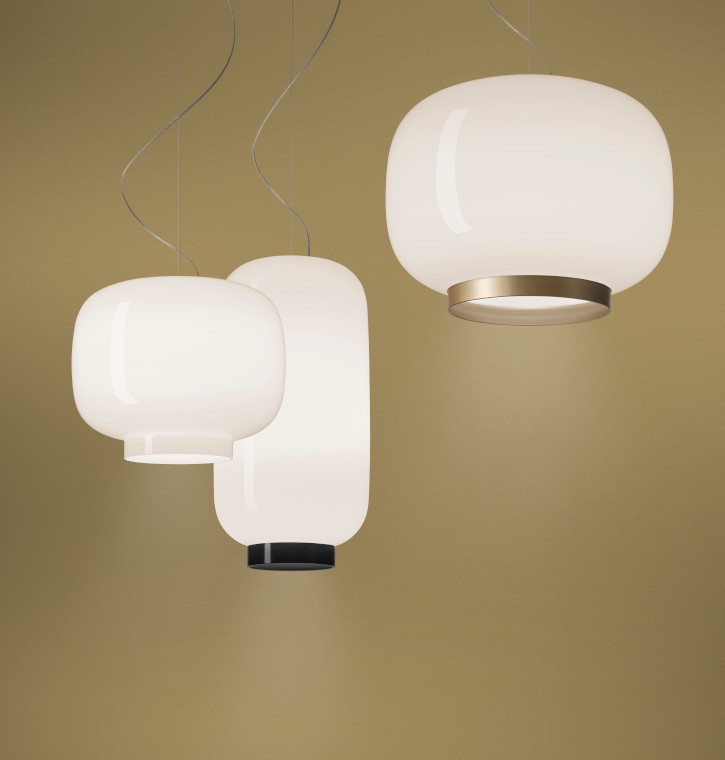 Product Overview
Chouchin is a suspension lamp for diffused and direct downward lighting. The diffuser is in jacketed blown glass with a glossy coated finish. Suspension cable in stainless steel, transparent electrical wire. Ceiling plate with galvanized metal bracket, covered in mastered glossy white ABS, or coordinated in gold for Chouchin Reverse 1, and graphite for Chouchin Reverse 2. A kit is available for off-centre placement of the ceiling plate.

MATERIALS
Lacquered blown glass.

COLORS
Chouchin 1 white / gold, Chouchin 2 white / black.

Chouchin Semi is a wall lamp for indirect and diffused lighting. Diffuser in jacketed blown glass, crafted by hand with glossy finish. Wall attachment in coated metal and ABS.

MATERIALS
Blown glass and varnished metal.

COLORS
white, gold, graphite.
BRAND SELECTION
OUR PRODUCTS