Dressup
Visual lightness and technology are the inspiring principles that promoted an inversion of the traditional storage paradigm, resulting in units that are developed vertically and preserve a perception of great lightness and freedom.
That's what inspired Dressup: this system can be easily customised and used in endless ways: on the kitchen splashback, in the bathroom and in the hall.
Designed by

Garcia Cumini
A modular wall system made up of elements that are only 22 cm deep and feature sophisticated solutions such as anodised aluminium profiles that support the glass shelves and accessory holders. They can be with or without doors.
An element belonging to the DressUp system that stands out for its linear lines and consists of a shelf and a back panel connected by technological elements.
This is a comprehensive system designed to accommodate all the kitchen accessories used every day in such a way as to take up the least possible space and volume.
One of the Dressup combinations available features Art Collection, a precious embellishment that adds a very charming, artistic touch to modules while also expanding the back panel's original function. In fact, it can now portray refined, pictorial-style, still life works by the Venetian photographer Zaira Zarotti: vintage arrangements that are prevalently floral, the infinite details of which pursue the still life tradition of the Renaissance; images which – in a light reminiscent of the artworks of Caravaggio
- narrate stories condensed in a fleeting moment at which emotion is such as to stop the course of time.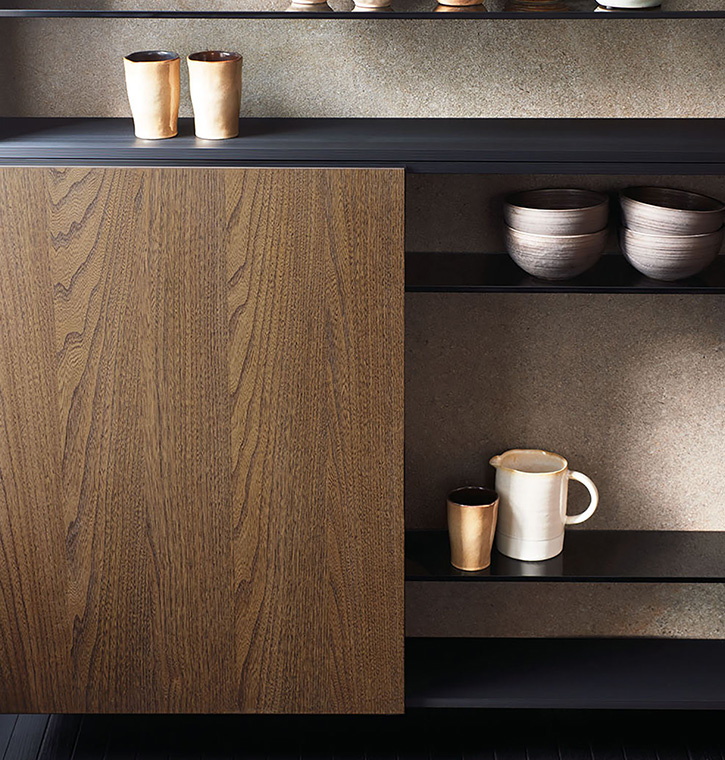 Product Overview
Technology and lightness
Technology and lightness are the two inspiring principles that have permitted the reversal of the storage drawer paradigm, moving from a traditional, horizontal structure to a vertical model. The component measures 22cm in depth and provides an airy and spacious perception.

Design freedom
Thanks to the widely developed style ranges and variety of available finishes, Dressup is suited to furnish every room in the house. The profiles (equipped with invisible spaces to accommodate optional features such as LED lighting, accessory hooks, and sound systems) are available in ribbed aluminium, black, champagne, and bronze, while splashback options can be chosen from Cesar's selection of finishes, from melamine to Fenix, from lacquer to ceramic, and from marble to aggregates.
The cabinet door frames are also available in aluminium, black, champagne and bronze, all of which can be adorned with Cesar's variety of finishes.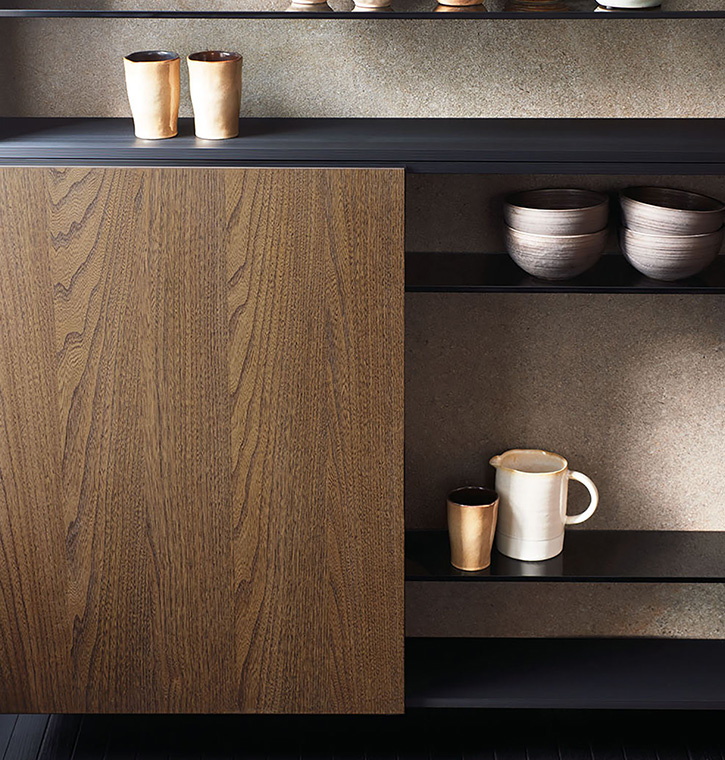 Product sheet
Dressup - Technical sheet

Collection
Dressup

Official website
cesar.it

BRAND SELECTION
OUR PRODUCTS