Momenti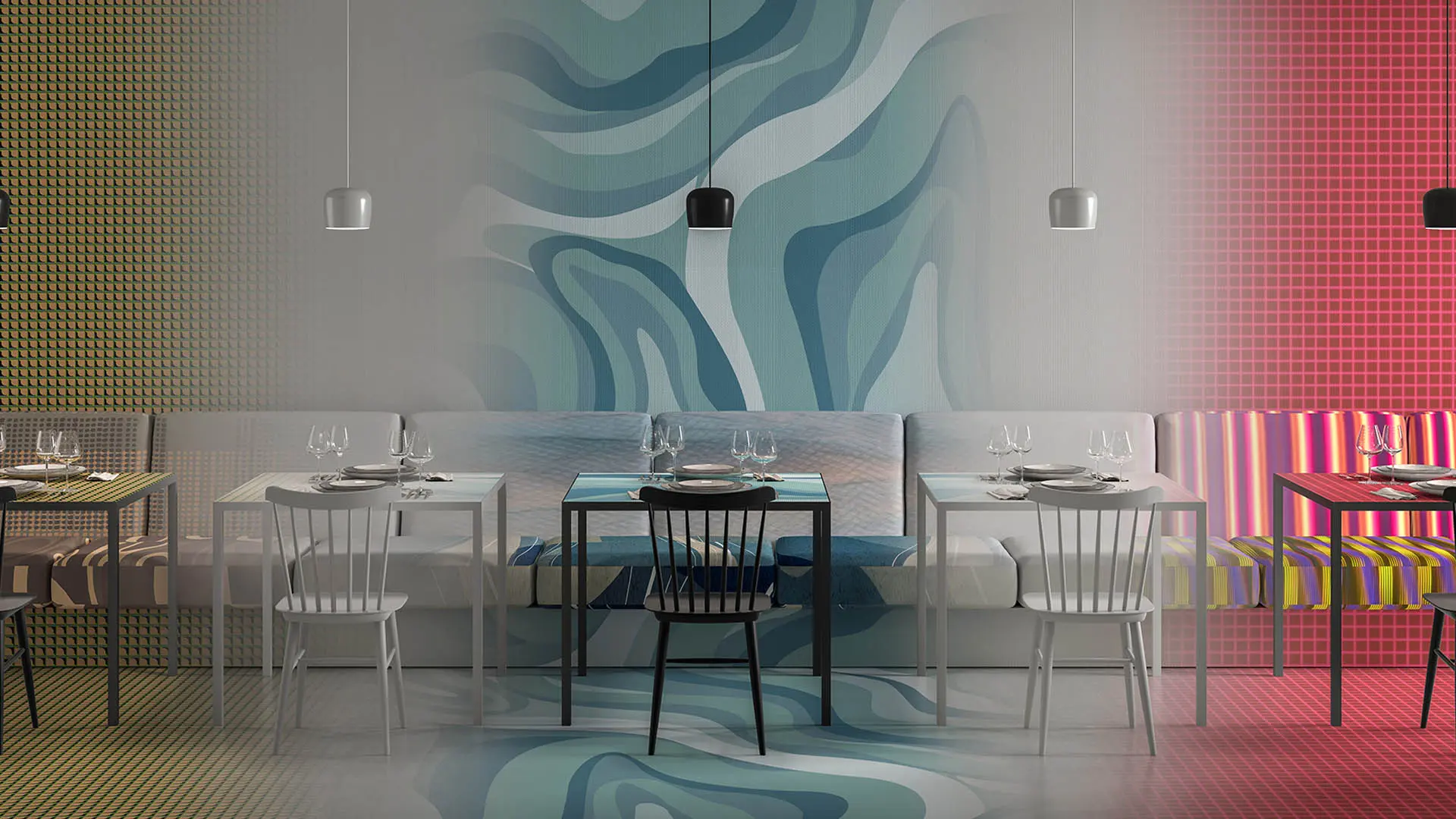 Momenti is a container of dreams, of possibilities, of expressive freedom.
In 2005, Alexander and Matteo Bagnai began a journey between entrepreneurship and inventiveness, and the result is a suggestive alchemy that characterizes unique objects. Momenti® covers any surface, be it a floor, a wall or a piece of furniture, through exciting and fascinating solutions. The working process allows you to customize each type of coating starting from an idea, an intuition, a simple one drawing provided by the customer or from an image in our catalogs. Our collections (Home & Contract, Tailor Covering, Painting and Tile) are born from continuous tests of materials, finishing research, resistance, respect for the environment and continuously enthusiasm. The goal is to disseminate the quality of Made in Italy, a desired excellence in all over the world by those looking for highly customizable and perfectly customized products coordinable. The Italian character of our products is synonymous with great attention to every production process, from the choice of materials and their quality, to the attention to detail. Everything is done strictly by hand. Each product, in fact, goes through all the phases of realization - from conception to production on our territory - to tenaciously safeguard a manufacturing sector characterized by creativity and skill. Maintain these standards of quality, means for us to offer our customers unique collections, exclusive choices and innovative and versatile solutions. This is why we like to call ourselves the "Tailors of Design Italian". This is how artistic prints, furnishing elements, strong coverings are born artistic imprint and clothes of exciting images. The end result is art applied to everyday design.
Feel free to choose, to change.
This is freedom of expression.
Each and every Momenti product is fully and entirely customizable. Choose the product, decide on details, materials and finishings that best suit you, finally, choose the graphics you wish to apply, and finally compose your project. Momenti will accompany you with the design and implementation of your ideas, offering you freedom of expression throughout the process.
The Capsule Collection was born from a careful and in-depth research of the stylistic trends of the moment and contains 12 graphics, divided into 3 main collections (Eros & Psiche, Techno Folk and Rx Nuance), each declined in 3 color variants.
Eros & Psiche
A mythological eroticism is expressed through rarefied atmospheres, pervaded by tangible sensuality. The final effect is proposed as the rarefied memory of a novel that induces relaxing sensations.
Rx Nuance
Chromatic gradients seen on X-rays that show structural frames or hidden worlds. The color is the absolute protagonist, but it is never excessive. Each chromaticism meets or collides with its opposite
Techno Folk
A graphic melting pot where the textile tradition of Eastern Europe meets the decorations of oriental clothes. The colors and geometries of African fabrics blend with the weaves of the Nordic countries into almost three-dimensional warping.
The Home & Contract Collection by Momenti includes a vast selection of products: sideboards, high sideboards, tables, coffee tables, consoles, chairs, sofas, hung cabinets and accessories. The Collection uses only natural raw materials: Technical fiberglass covering fabric obtained with special glass fiber yarns, cast at 1400° C. Non-toxic, ecological and hygienic; Surface material coating: quartz structurable with non-toxic water-based matt resin finish. Ecological, hand-applied by Momenti's staff. Thanks to other Collections, Painting, Tailor Covering e Tile, in complete harmony with the Home & Contract Collection, it's possible to create unique surroundings, completely customized: from the floors to the walls, through our precious furniture pieces, up to the paintings, real works of art.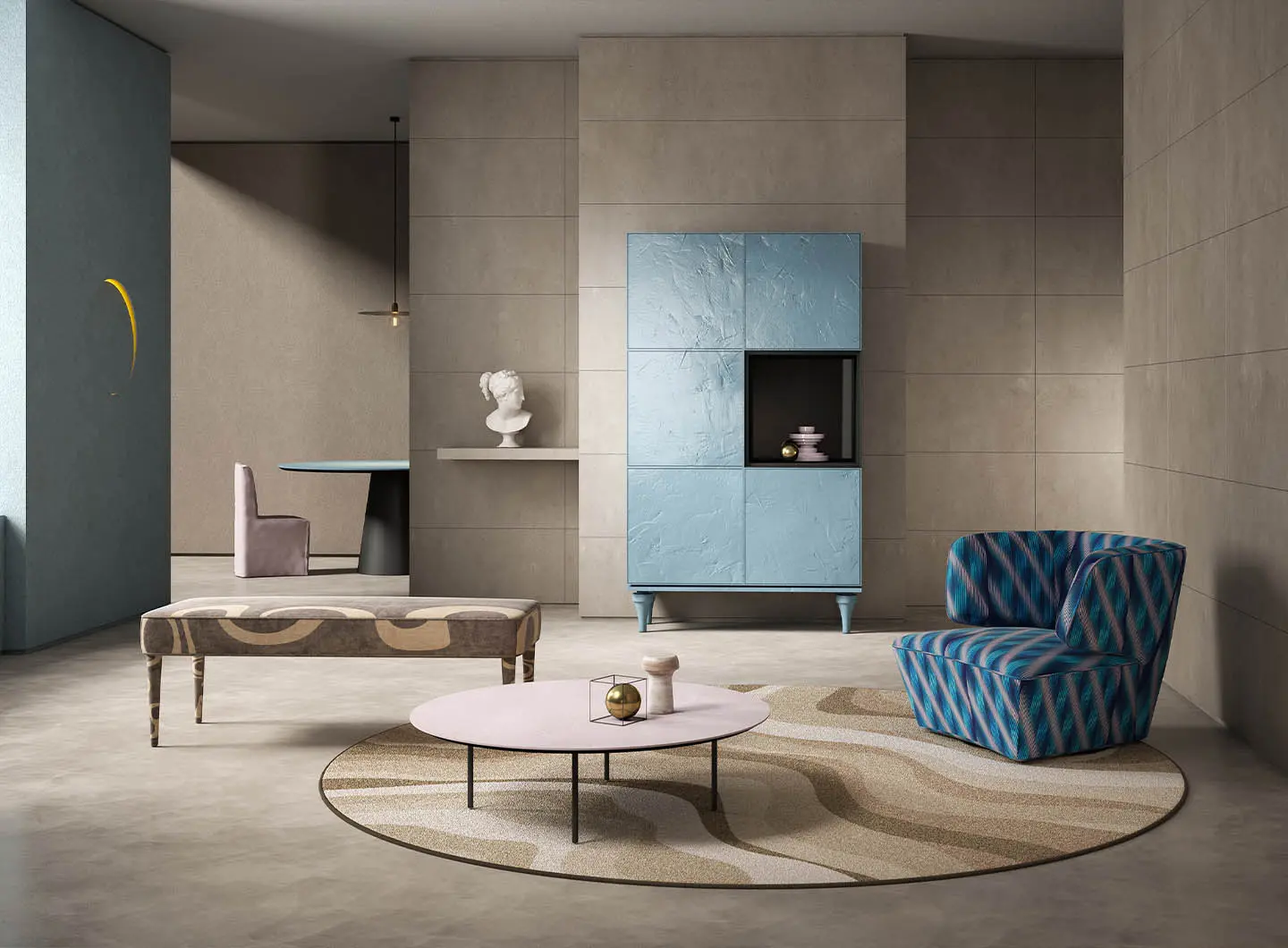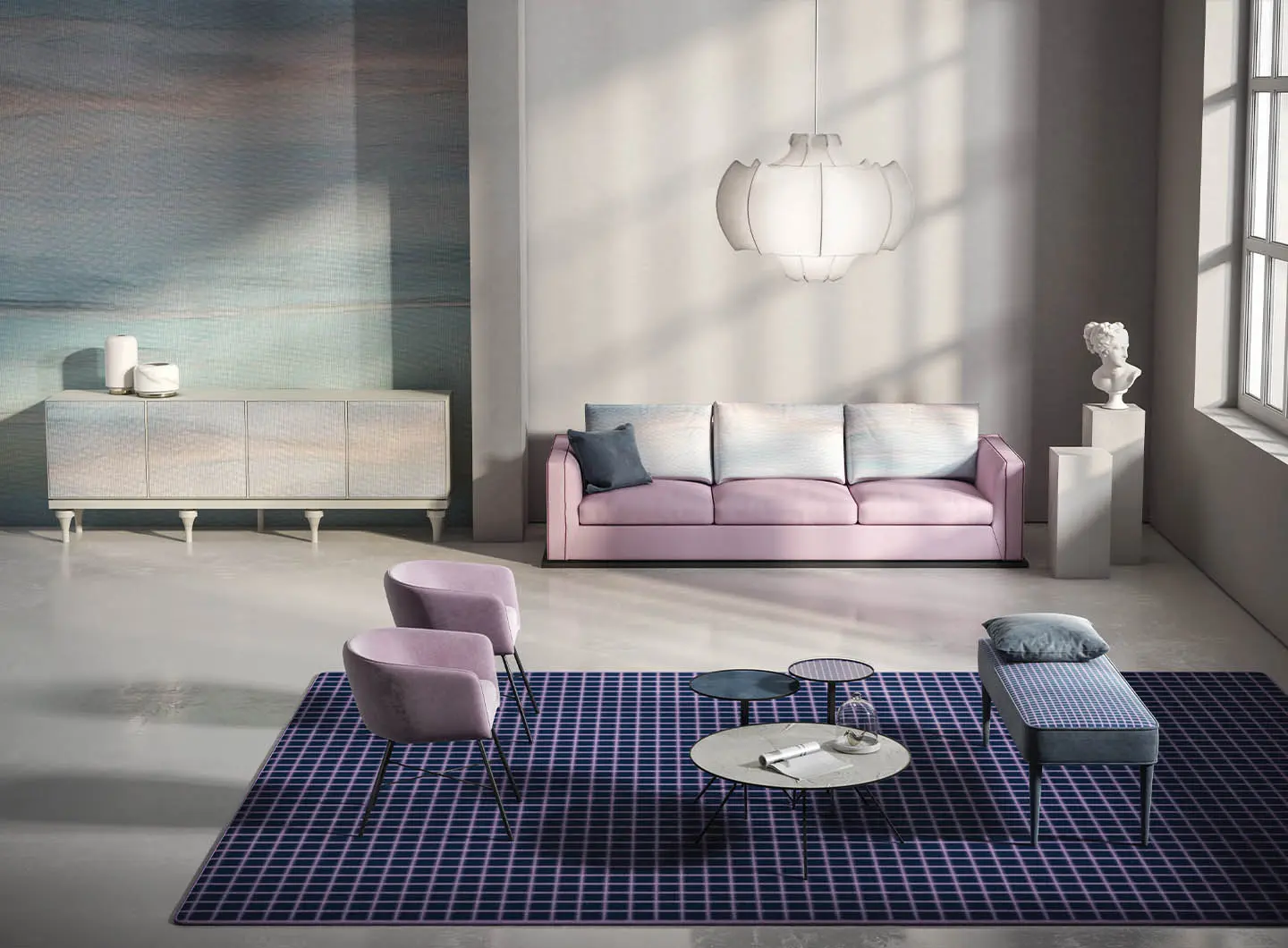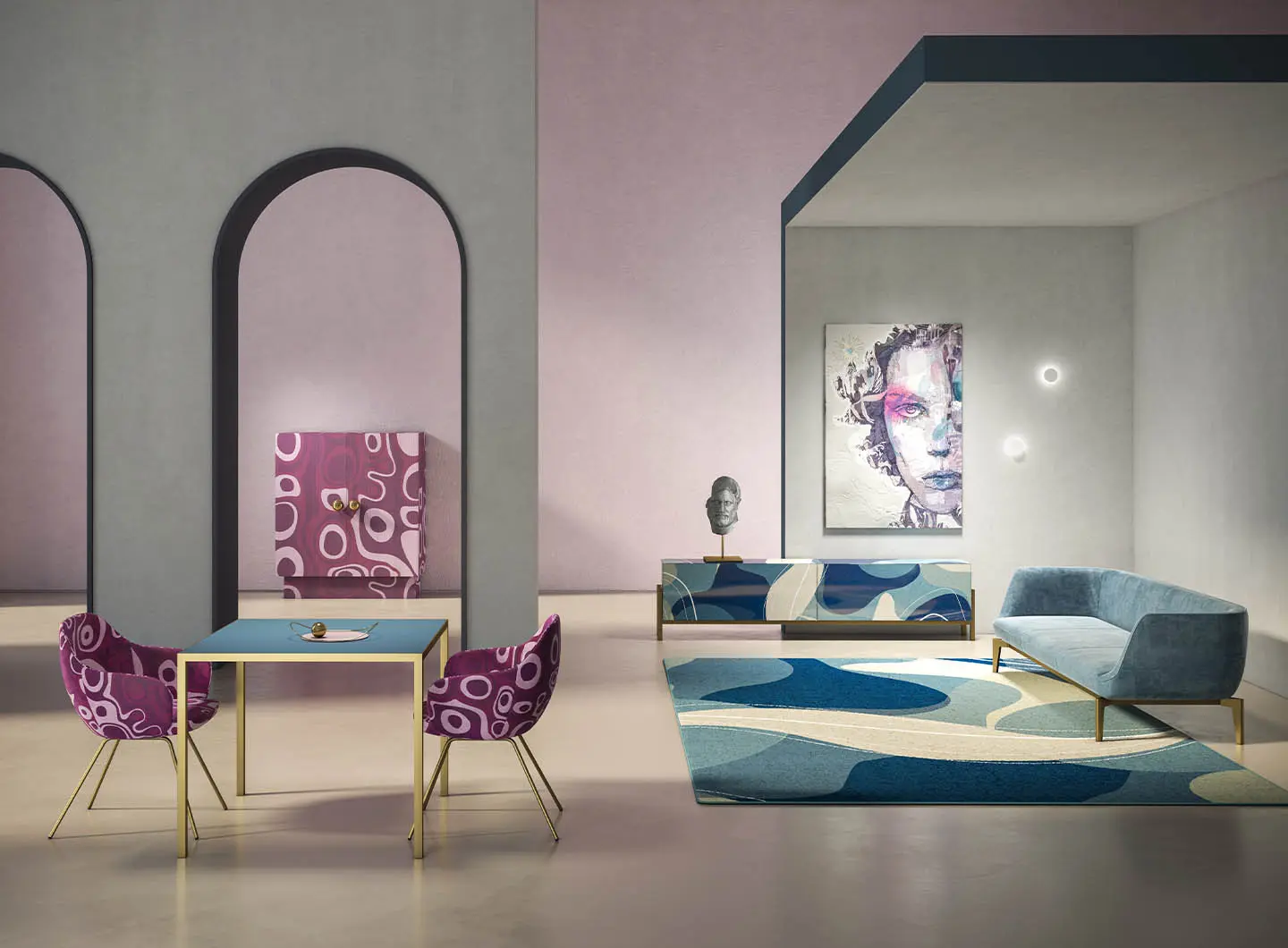 MOMENTI® with Tailor Covering coatings revolutionizes the concept of interior projects with natural materials and exceptional performance that find new applications both indoors and outdoors. With Eco Light Fiber and Tecno Fiber he has made fiberglass a real experimentation ground, allowing to decorate and personalize rooms in the house or public spaces hitherto inaccessible to traditional wallpaper. Furthermore, with the Acoustic Fiber sound-absorbing covering fabric, MOMENTI® allows to improve the reverberation in places of aggregation and entertainment.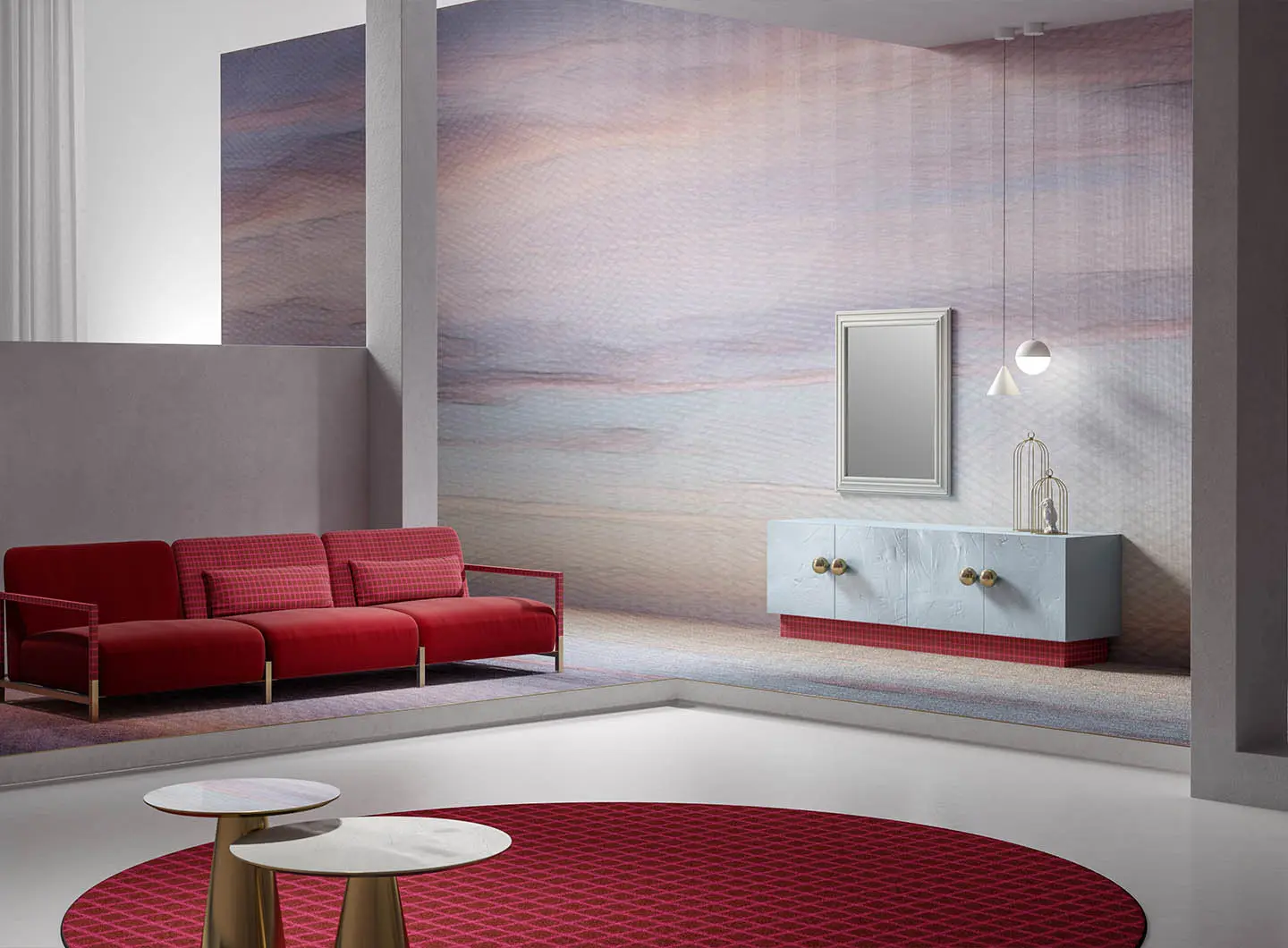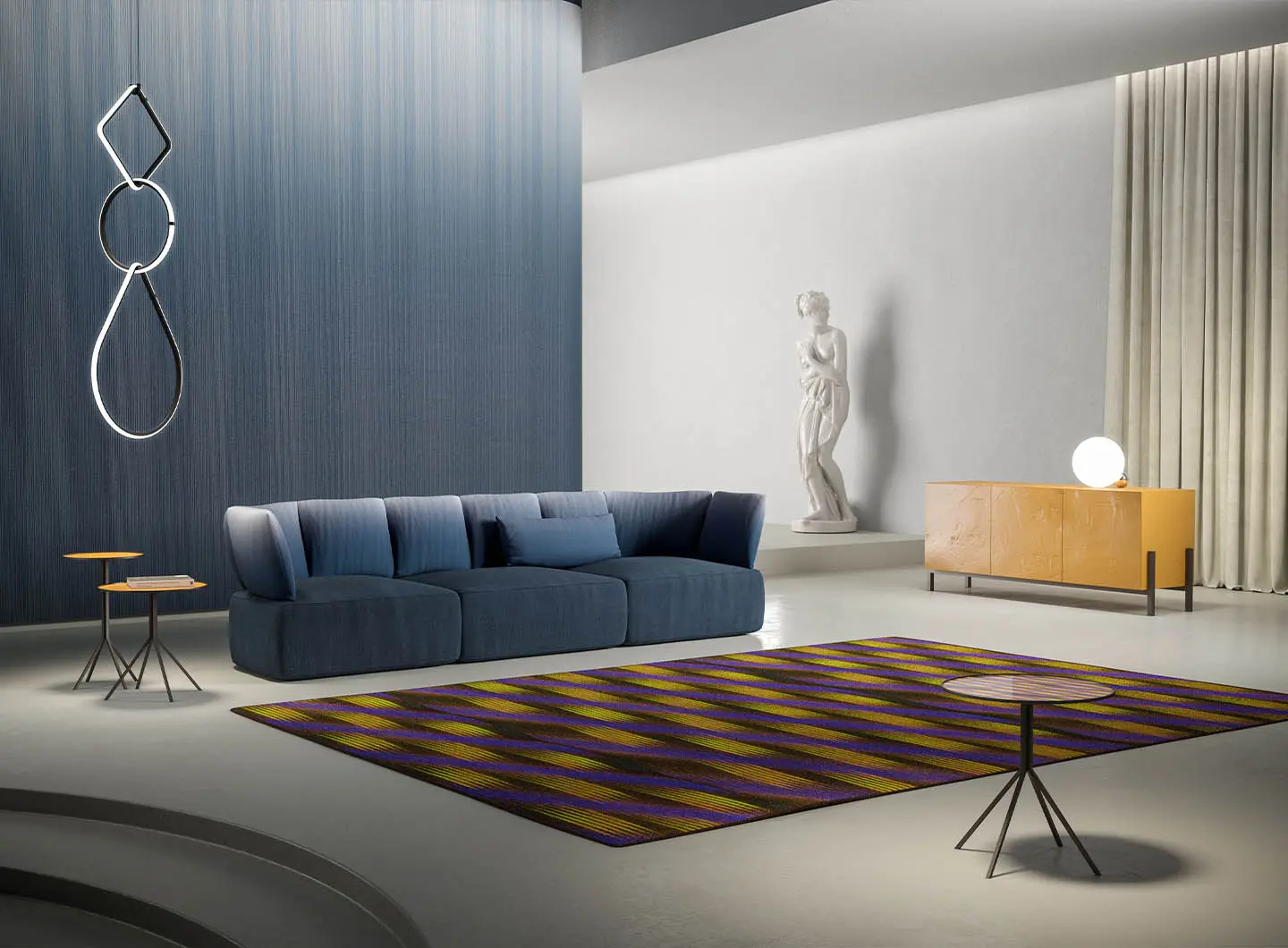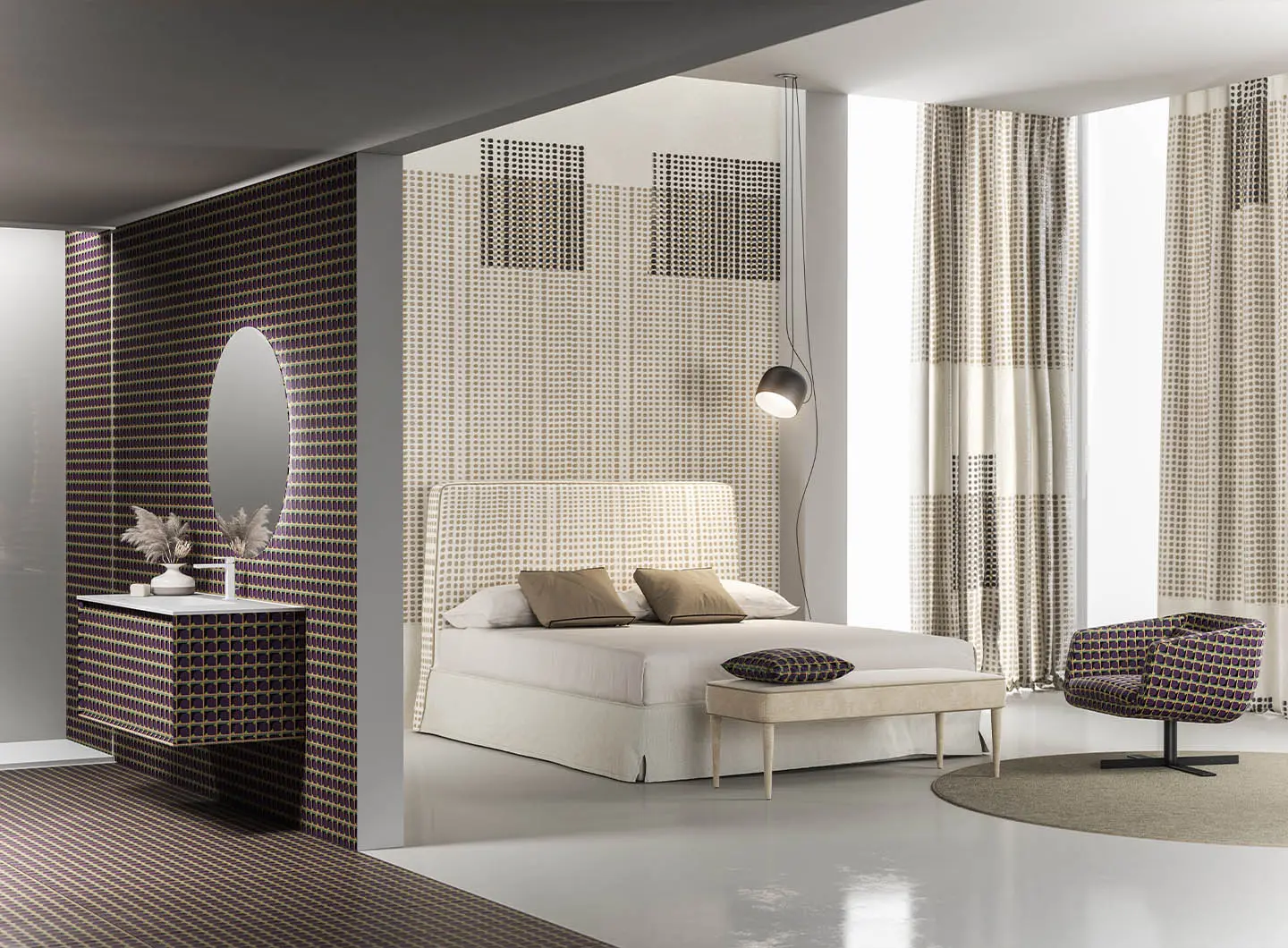 The Painting Collection includes modern works of art created by MOMENTI® on various media, researched and designed specifically for the line. International artists have lent their creativity to our research of design and new image solutions. Each creation reflects its artist and his creative flair, giving the artistic prints of MOMENTI inimitable colors and shapes. The result is Art applied to everyday Design.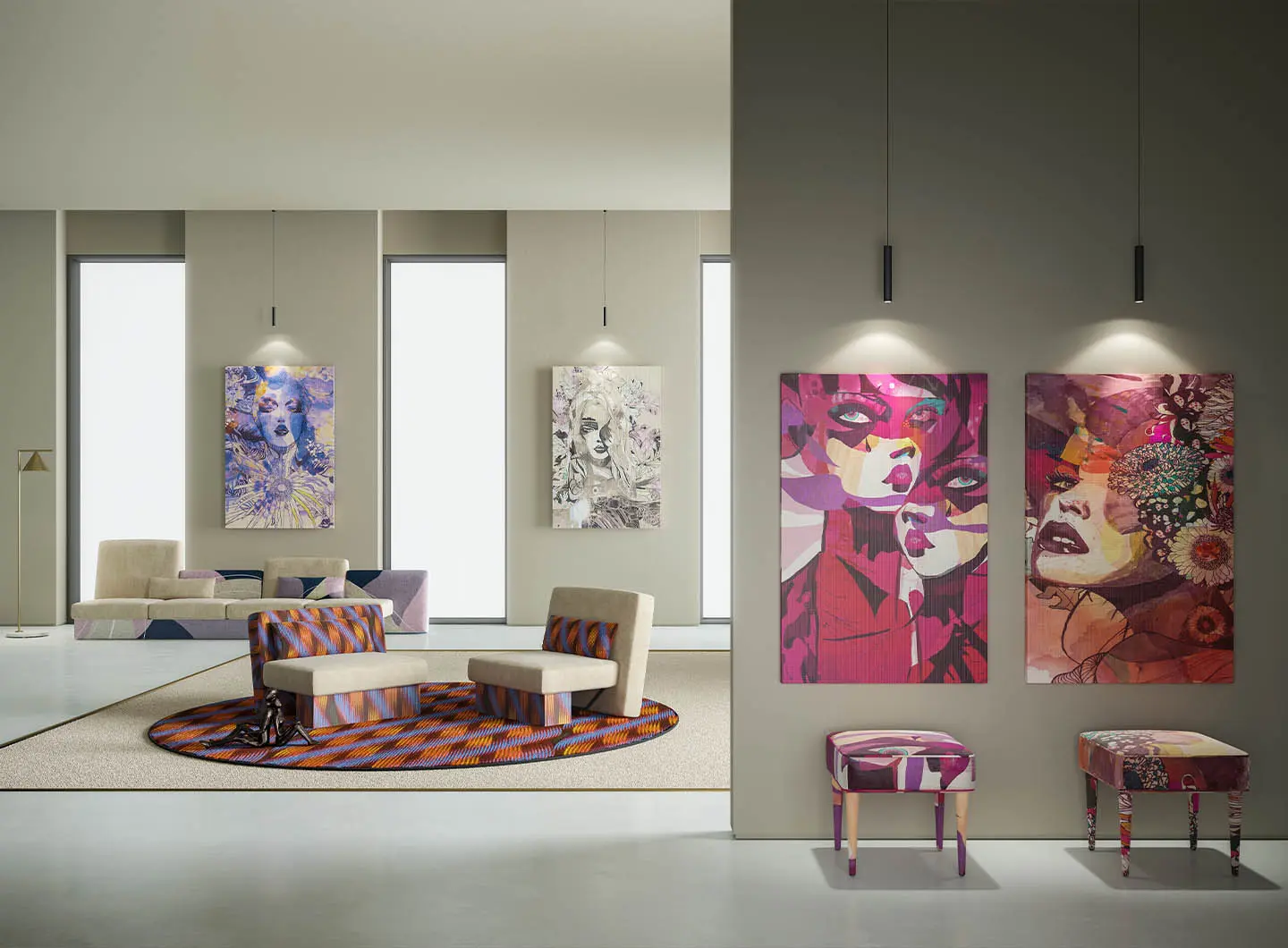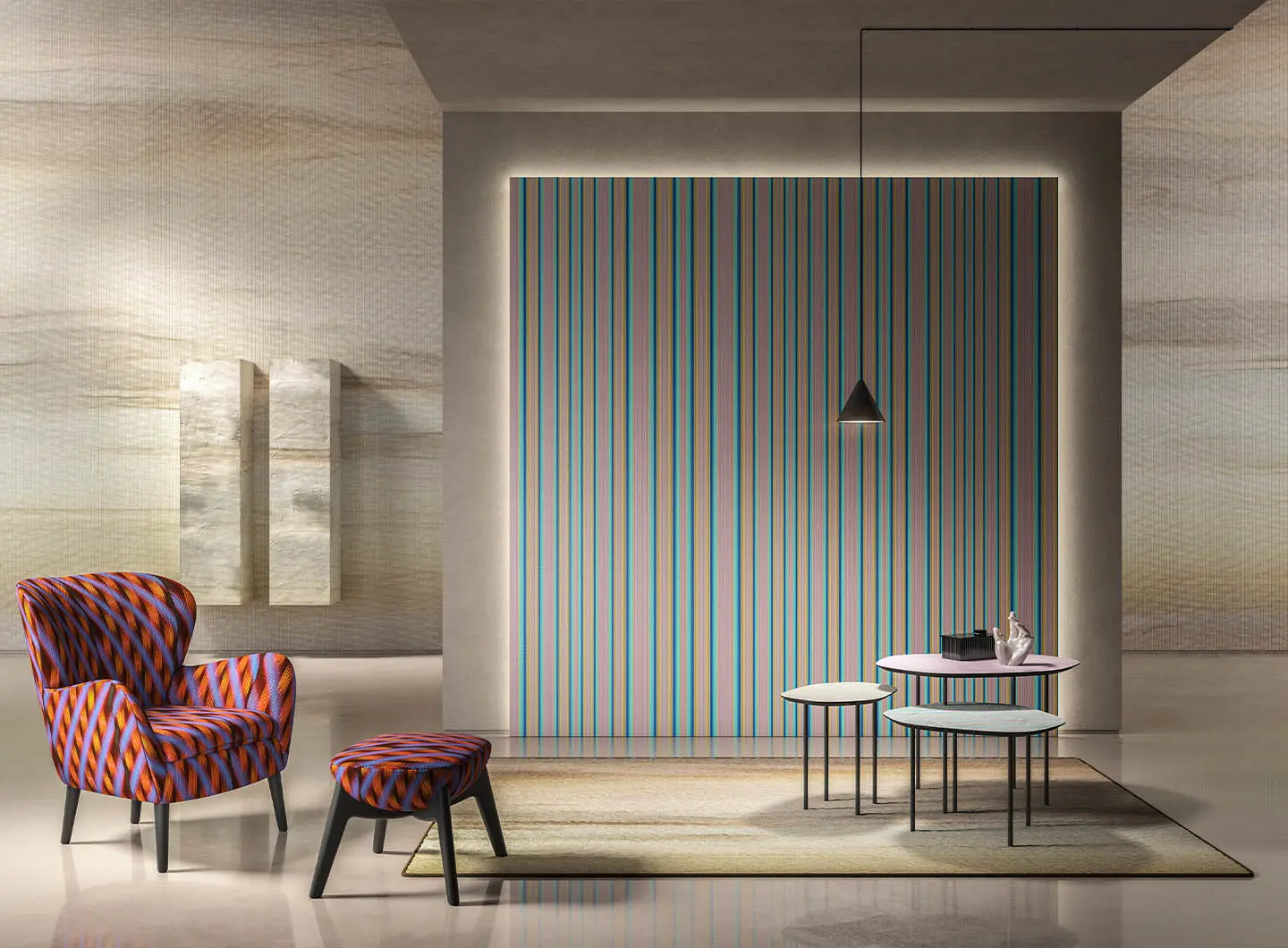 The MOMENTI® Tile Collection allows you to obtain different geometries and modular compositions with multiple expressive possibilities. The ceramic slabs enrich the spaces of everyday life thanks to their versatility of use and their essence of work of art.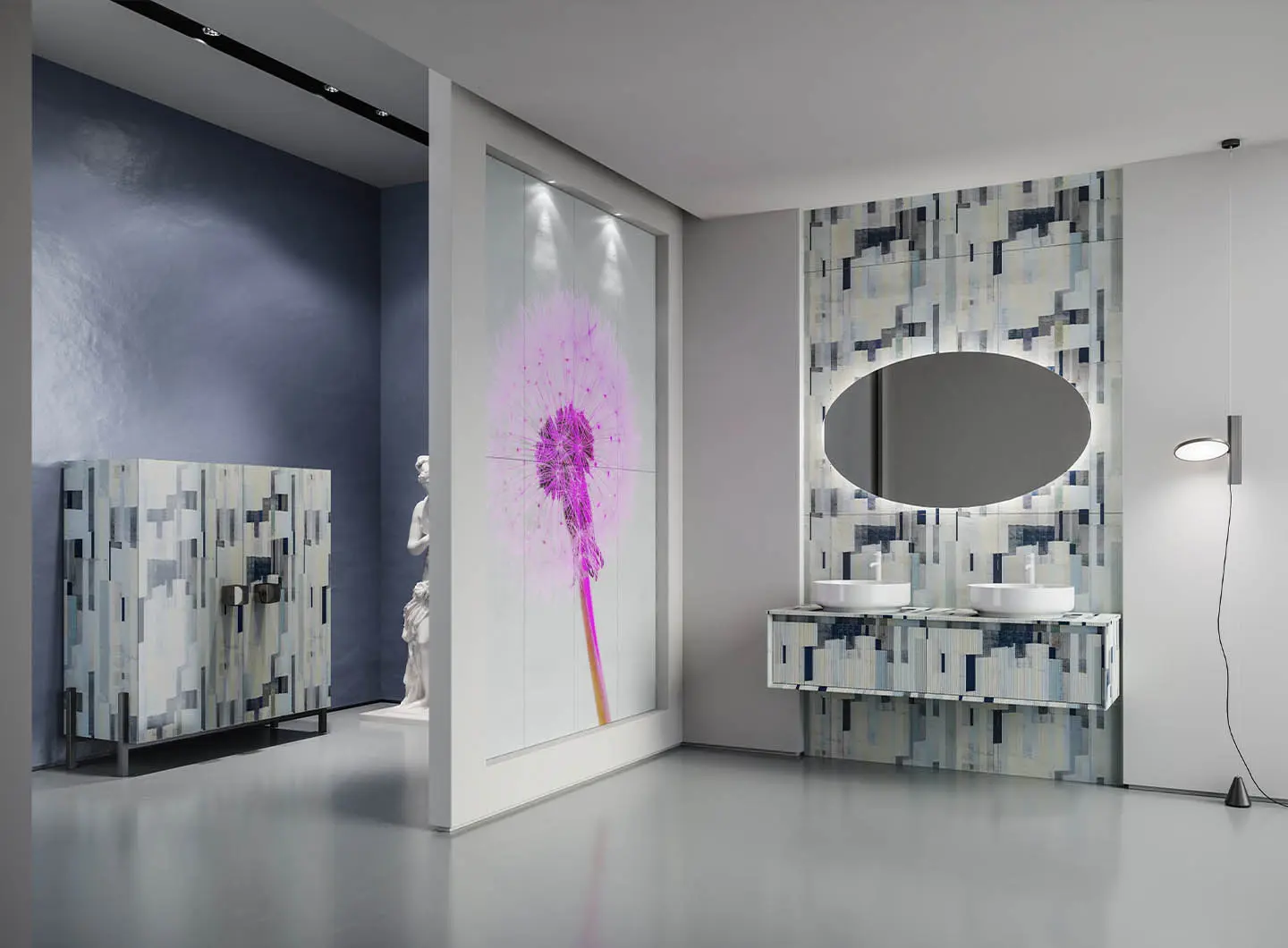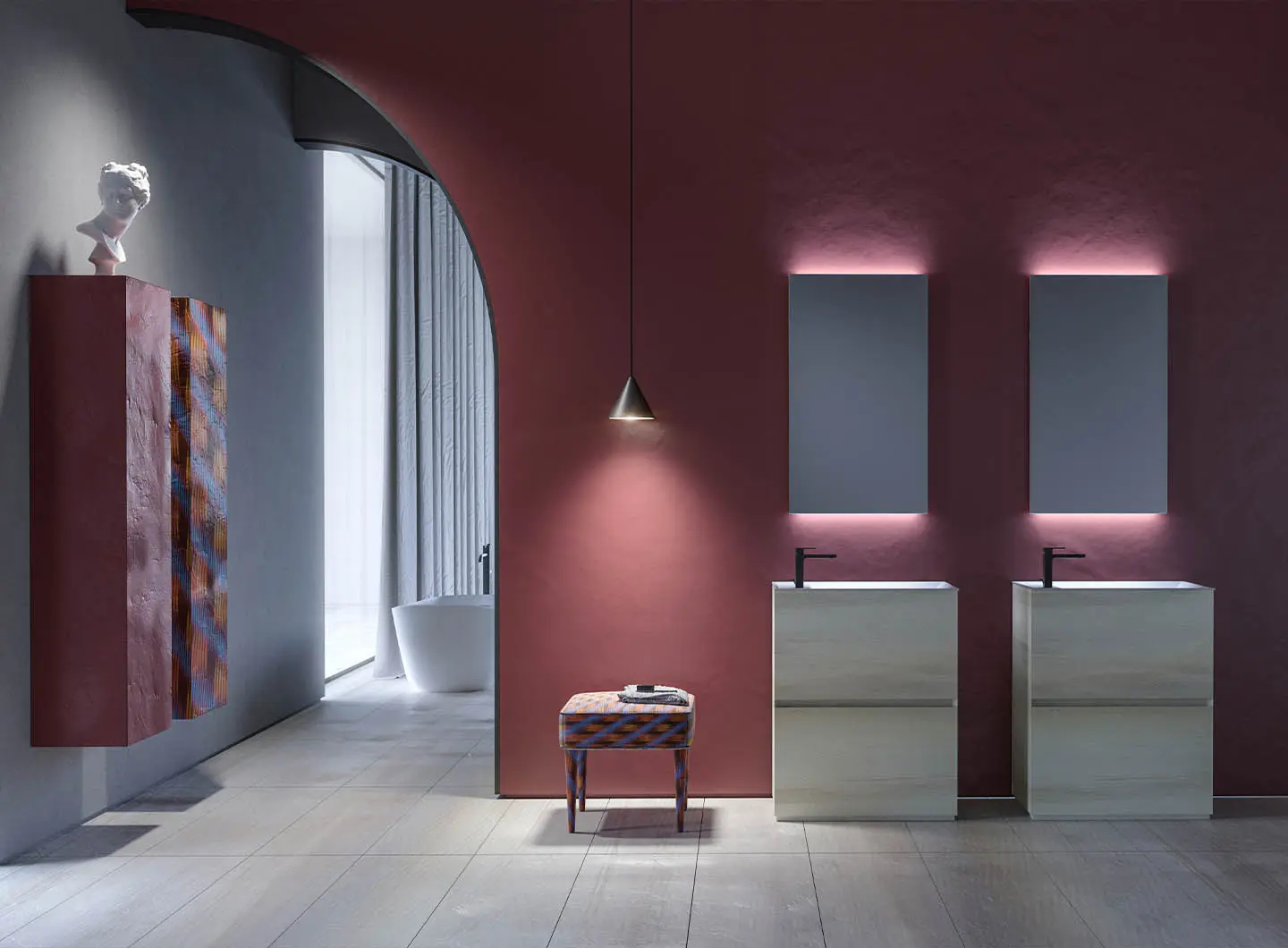 CREATIVE SPACE, MOMENTI official Showroom in Monza
From the encounter between the interior design of REGINA DESIGN and the customization of furniture, objects and surfaces by MOMENTI®, a new space is born in the heart of Monza, a Creative Space, a new laboratory dedicated to interior design. The melting point is the pure, personal and absolutely original expression of the soul of an interior, of the intrinsic peculiarity of the place and of those who live there. Spazio Creativo is for those who believe that every environment strongly leaves its mark on the quality of life of those who live it, which instills wellbeing, stimulates creativity, improves feelings, makes people, on balance, better.